Posted by bound by obsession
Sunday, 28 April 2013
comments (0)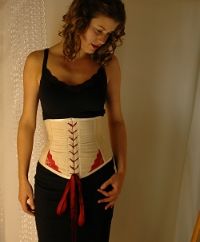 The front lacing corset is becoming more and more popular and with good reason, as everyday wear goes, it has always been our favourite corset. they are so comfortable and easy to wear, under clothes, over clothes, dress them up, dress them down, wear them to work, even sleep in them if you are a hard core waist trainer. I personally wore one all day, every day for years. I hated not wearing one, I felt untidy and 'slouchy', they make you stand taller, hold your head higher and in my case stopped me from repeating the bad posture habits I had gotten used to in the studio which cleared my back pain. The only reason I stopped and don't wear one at the moment is because I'm going through a baby phase (corsets and pregnancy/early motherhood do not go together at all!)
I often get asked about the after effects of long term corset wearing. Historically speaking corsets were worn from a much younger age than we would ever recommend (we don't recommend regular wear of a steel boned corset under the age of 16!) and were designed for a much more intense and progressive waist reduction. Though later on, particularly towards the end of the Victorian era, diary extracts from young women reveal more than just a few secretly slipped the stays out of their corsets to make them more comfortable especially in summer!
Some people worry that wearing a corset everyday could lead to muscle wasting or inefficiency if you do want to stop. It crossed my mind that my back pain could return if I stopped wearing a corset everyday but the last time I wore a corset was my wedding day nearly two years ago and the pain I used to get has not returned, I think wearing the corset for that long made me develop new habits that have stuck rather than returning to my bad old ways of twisting between machines as I worked. Even without the back pain I am still very keen to get back in to a corset and the front lacing will be my first choice.
Here are a few examples of front lacing corsets we have recently had for sale, click on each image for more information.
We also have a gallery of a small selection of front lacing corsets that we have made over the years. Click on the image below to have a look:-